Address:

Manchester Heart Centre
Manchester Royal Infirmary
Oxford Road
Manchester
M13 9WL

Phone:
0161 276 1234
Web Address:
http://www.cmft.nhs.uk/
Manchester - Royal Infirmary (Profile)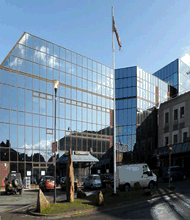 Manchester Heart Centre based at the Manchester Royal Infirmary is the Regional centre providing Adult Congenital Heart Disease (ACHD) Interventional Services to the North West region, North Wales and the Isle of Man covering a population of about 7.2 million. This is done in a hub and spoke model whereby MRI functions as the hub and the spokes being at Liverpool Heart and Chest hospital, Blackpool Victoria Hospital, and Wrexham Maelor Hospital.
A wide range of complex congenital Surgical and Catheter Interventions and electrophysiology procedures in adults are undertaken. A full range of investigation modalities are available including cardiac MRI and CT, Echocardiography including Intra Cardiac Echocardiography (ICE), exercise testing and cardiac catheterisation. There is a well-established percutaneous pulmonary valve implantation program.
All Complex Congenital Cardiac operations are performed in this centre. ACHD patients with pulmonary hypertension are also able to receive specific pulmonary antihypertensive therapy in the centre if suitable and appropriate. Joint Obstetric clinics are held weekly for pregnant ACHD patients.
There is a close liaison with the Manchester Children's Hospital and Alderhey Children's Hospital in Liverpool.
Medical Staff
Congenital heart surgery
Mr A Hoschtitzky (Clinical Lead for ACHD)
Mr R Hasan
Cardiology
Dr V Mahadevan (ACHD Interventionist)
Dr J Dua (ACHD Cardiologist)
Dr P Jenkins (ACHD Cardiologist)
Prof B Clarke (Cardiologist with a special interest in ACHD)
Dr S Muhyaldeen (Consultant Electro-physiologist with a special interest in ACHD)
Dr A Fitzpatrick (Consultant Electro-physiologist with a special interest in Congenital Heart Disease)
Dr A Zaidi (Cardiologist with a special interest in Devices for Congenital heart disease)
Dr G Ciotto (Paediatric Cardiologist)
Dr H Dormand (Consultant in Cardiac Imaging)
Adult Congenital Heart Disease Nurse Speacialists
Linda Griffiths
Jane Hill
Anna Dinsdale
Anna Harrison
.