Address:

Imperial College Healthcare NHS Trust
Hammersmith Hospital
Du Cane Road
London W12 OHS
Phone:
0203 313 1000
Web Address:
http://www.imperial.nhs.uk/
London - Hammersmith Hospital (Profile)
Imperial College Healthcare NHS trust (ICHNT) comprises Charing Cross, Hammersmith, Queen Charlottes, St Marys and the Western Eye Hospitals. Cardiac services are present on Charing Cross, Hammersmith and St Marys sites, with structural heart disease service based on the Hammersmith Hospital site. Invasive procedures, such as open heart surgery surgery and percutaneous closure of Patent Foramen Ovale (PFO) and Atrial Septal Defects (ASD) are carried out on the Hammersmith Site.
The Trust provides a comprehensive range adult cardiac care services including cardiac surgery and percutaneous closure of patent foramen ovale (PFO) and atrial septal defects (ASD). However, it is not a regional grown up congenital heart disease unit (GUCH) and does not provide treatment for complex congenital heart disease patients.
Medical Staff
Cardiology
Dr Iqbal Malik (Clinical Lead)
Dr Christopher Baker
Dr Punit Ramrakha
Dr Raffi Kaprielian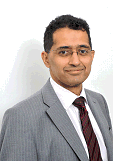 Dr Iqbal Malik
Cardiac Surgery
There are currently seven Adult Cardiac Surgeons with experience in ASD/VSD closure, and who treat bicuspid aortic valves. The Trust does not operate on children with cardiac disease.
.